Caleb M. from Nomad Ventures takes us along his trip up the Hourglass Couloir
Who would've thought Mt. Baldy Rd. would be bumper to bumper the whole length of the road, all the way back to Manker Flat. Apparently not I, because that's where I found myself New Years Weekend. With the 2 feet of fresh dumped powder, it brought everyone to the closest place to LA to see snow. 
My partner and I started from Manker Flat at around 8:45pm, planning on bivying for the night around the ski hut, and then get an early start on the bowl the following morning. As soon as we got there, there were two helicopters flying overhead, for what we learned was a rescue around the Ski hut/San Antonio creek falls. By this point, it was completely dark out, and already fairly cold. The entire trail, beginning from the fire road was covered in at least ice, if not snow, which I found out very quickly by slipping on a patch of ice not 5 feet in to the hike. It was a promising start. Once moving it quickly warmed up, and I ended up in nothing more than a thermal base layer and a wind jacket reminiscent of a trash bag. The trail was fairly well packed, but it wasn't complete ice, which allowed a flawless and spike-free ascent up to the ski hut. For the most part the tracks remained true to the actual trail, and we made it up in about an hour and a half.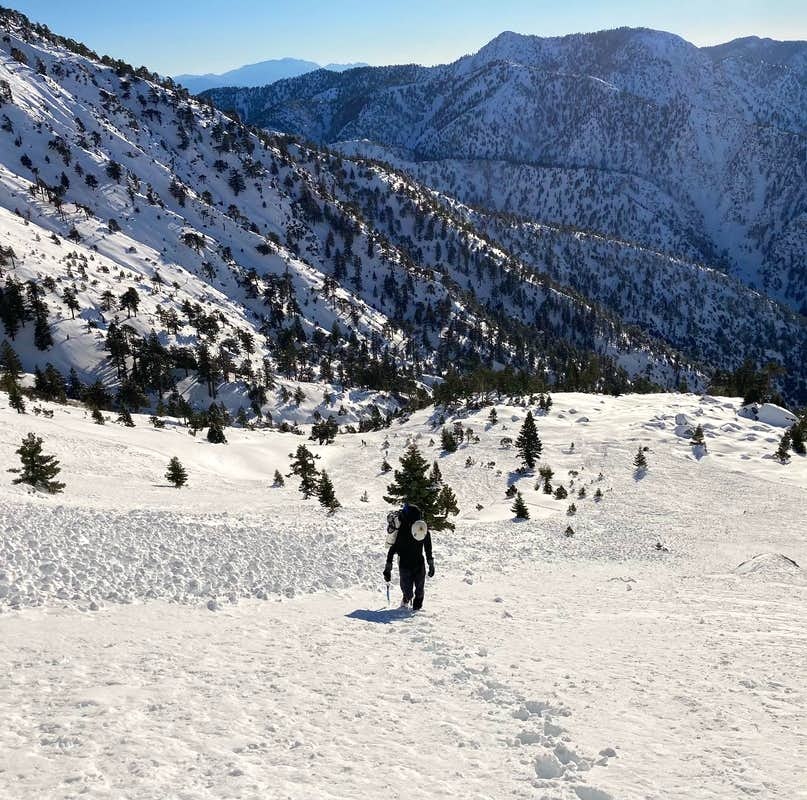 At the ski hut we broke our bivies and sleeping bags out, preparing for what I thought would be a cold and miserable night. The snow was solid up there, and digging a platform to sleep in the snow consisted of a lot of cutting with my axe and shoveling, which ended in a less than adequate ledge to sleep on. The night was supposed to get down to the high 20's up at 8,000 feet, and I was slightly worried about how my cheap 20 degree bag would hold up. It ended up being a perfectly fine night, and I had a fairly nice night, at least as much as I could have had on a platform smaller than even my sleeping pad. 
We woke up in the morning to an amazing sunrise, one that made me forget I'm an hour outside of LA. By the time we woke up and began packing up, a small group was gathering at the ski hut, eager to begin the bowl. I'm not one for alpine starts unless I absolutely have to, so waking up at sunrise wasn't too bad of a deal. Packing up was uneventful, and more and more groups began joining us at the ski hut. By the time we were leaving, four groups had gathered, so we were glad to be getting and started, and hopefully ditching the crowds in the process. Our line was a little different than the "main" lines, Zen and Procrastination. Hourglass was a little steeper and much more narrow, it was pretty much sustained 50 degree slope angle, and maxes out around 55-60 degrees.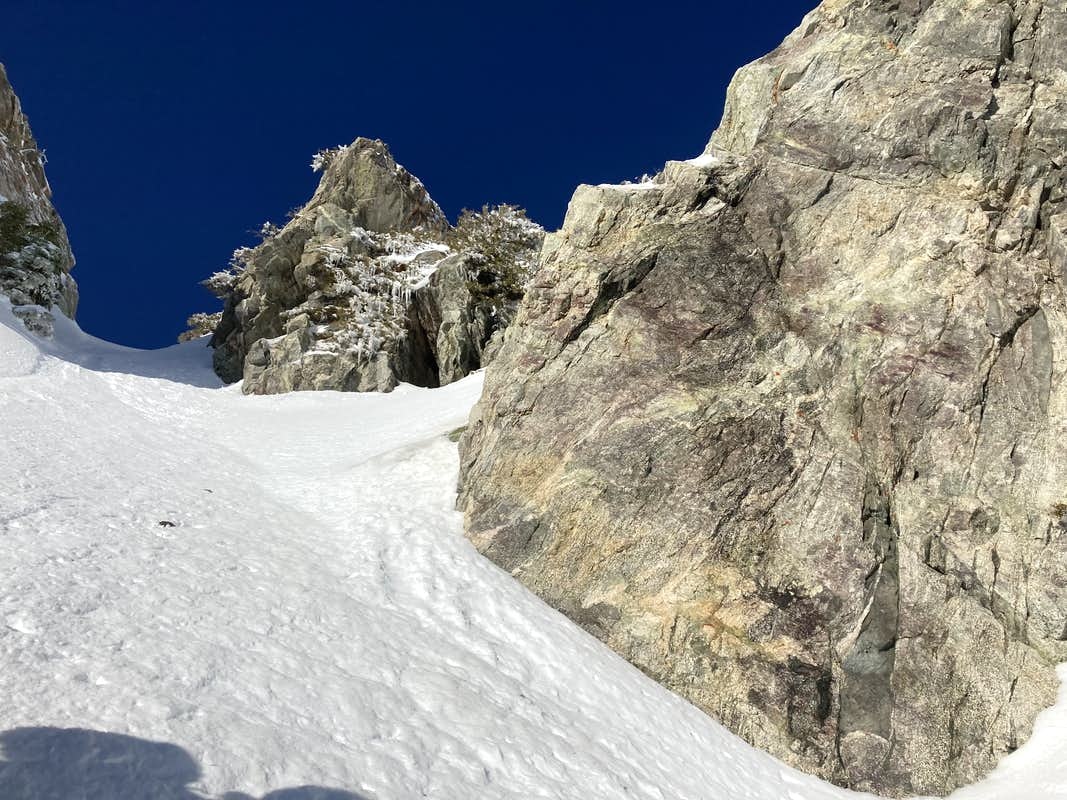 The beginning of the bowl starts off mellow and wide open, and this is were we decided to dig a avalanche pit, to check conditions. From the pit conditions seemed fairly stable, and we decided we would continue on, but keeping in mind the entire bowl is south facing, and cooks in the sun just about all day. There was already evidences of slides that occured in the previous 3 days since the storm, and there at least a foot of fresh powder that blanketed the base layer. We were having to do a mix of postholing and kicking steps in, because what was under the snow was for the most part hard. It started off easy and at a relatively mellow angle, and we just made it a point to get up to the next tree then we could rest again. From here I could look out and see the line of people on Procrastination, and I was silently grateful we hadn't chosen that route. I think I counted 30 people going up the route. The slope gradually began to steepen, and now was probably 35-40 degrees, and still just consolidated enough to not be miserable. We were now about 400 feet below the entrance to the couloir. From down below, it looked steep, and we still weren't even at the base of it. 
As we got closer and closer, I was starting to actually get a good look at it, and it looked like 55 degrees was a believable angle. Luckily due to the powder, a slip would have probably resulted in a shortfall, as long as I can self-arrest. The runout was for the most part wide open, only a couple of trees or rocks protruding from the snow. As we entered Hourglass, our hopes and concerns were quickly proved wrong, what we had hoped for, hard compact snow turned out to be two feet of literal powder. We figured since it get a little sun, it would quickly freeze up and become hard, but I guess it hadn't had enough time yet, because it was obviously the exact opposite.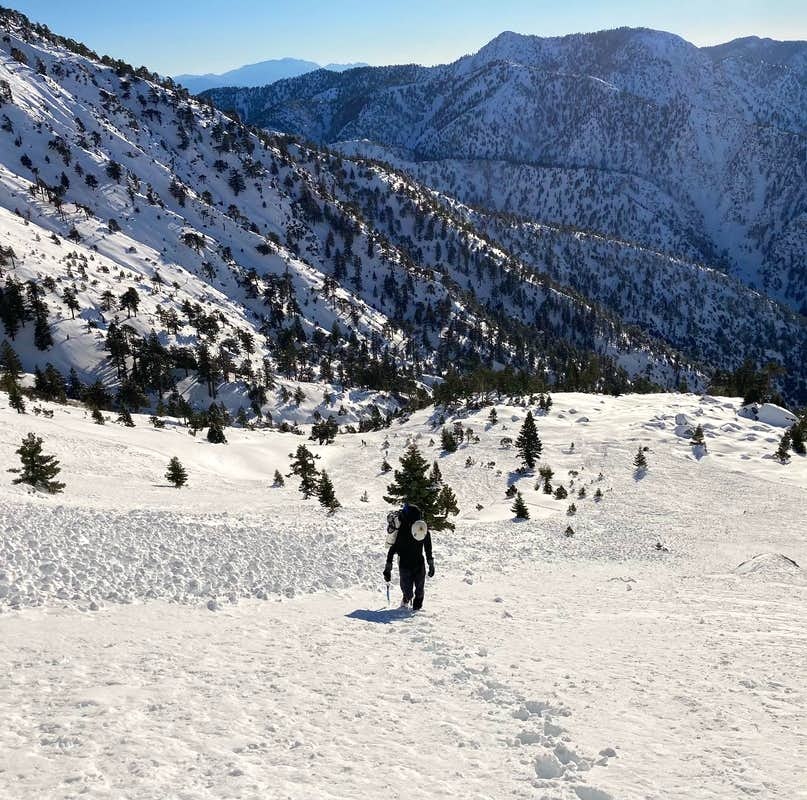 From here began a long and tedious ascent, we were having to constantly cut steps into the snow, and so it began, a monotonous step-dig-step-dig, for the better part of an two hours. The actual line is fairly short, from the entrance to the top out is a couple hundred feet, 400 at the most, but because of the required work it felt twice as long. It lived up to the description however, it was definitely a sustained angle of 50 degrees and probably around 60 degrees at the crux. It was beginning to get quite cold in the chute, because we were consistenly shaded by the cliffs on either side of us, and we didn't see the sun again until basically topping out at the summit trail.
From here it was easy walking to the summit, but another thousand feet or so of elevation gain, and we ended up summiting around 11:45. We were greeted to pretty brutal winds and a doze people in Arc'teryx shells and I couldn't help but be jealous because I wanted an Arc'teryx shell. After a quick bite to eat we began descending, and walked off the summit towards the bowl. I was under the assumption that we would find a line to glissade the whole length of the bowl on, but I was surprised when my partner began to downclimb, just to the climbers left of Zeke's Chute. It was here we encountered the first solid ice, and downclimbing with my aluminum crampons just wasn't giving me the kick I was wanting, so it made for a somewhat nerve-wracking time, especially because my fall line looked as though it would put me over some rocks that I did not know the other side to. We ended up descending the whole length of the chute, on a mixture of snow and ice, until the final 400 feet, when we finally switched to a glissade and arrived back at the ski hut around 1:30. 
From the ski hut down it was fairly uneventful and busy, but the snow was good enough to just stay in crampons. We arrived back at the cars at 2:45pm, and along with it were hundreds of cars parked along the road, and thousands of people playing in the snow. It ended up taking me about an hour to do 3 or so miles, and I was back at my house by 5pm.